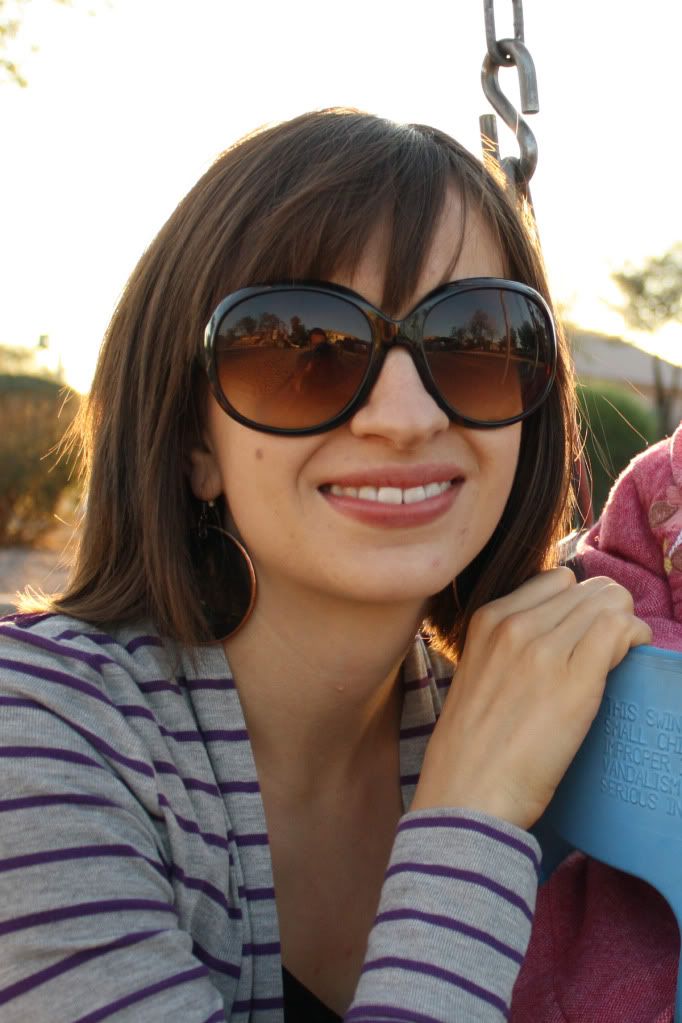 So, why natural beauty? Well first off, have you looked at the ingredients of beauty products? There will be a billion names you can't pronounce. The problem with that is those chemicals are actually very harmful. Many of them are known hormone disruptors. Some of them are known carcinogens (cancer-causing). Other chemicals are very toxic in other ways. They are best to be avoided when possible! Be sure to check ingredient labels and avoid anything with parabens, sodium lauryl sulfate, and other things you can't pronounce. If you're in doubt, check the
Skin Deep: Cosmetic Safety Database
- you just type in the name of your beauty product and it will tell you the safety rating from 0-10.
Here's
a fantastic list of ways to choose safer skin care products.
1. Coconut oil - Have I mentioned my love yet for coconut oil? Well...I
love
it. LOVE it. From cooking to skin care, it's just the best. A year ago, I threw out my chemical-laden face lotion and started using coconut oil instead (my hubby uses it too and also loves it). It is antibacterial and has many components that are beneficial and protective to the skin. It's even supposed to help with acne (though I haven't had any luck with that...darn hormones!). I simply take a small amount (barely a pea size) and rub it between my fingers and onto my face. Surprisingly, coconut oil does not leave my skin feeling greasy or looking shiny at all. In fact, I feel like my face has more radiance in it now that I eat a cleaner diet and use natural products than it did before. It also makes fabulous eye makeup remover. Do you have mascara all over your face after you shower? I do (because I don't wash my face at night...I'm horrible...really should start that.........). Well the coconut oil takes it right off. I get a bit of my wash cloth wet, dip it into my baby food jar of coconut oil, then remove the mascara from my face. Gone - like that. You can also use it all over your body as lotion too. Try it sometime! Some people like to use olive oil in this same way - check out
this post
for some great ways to use olive oil in your natural beauty regimen.
2.
bareMinerals
: A few months ago I
finally
purchased "real" make up - meaning, not the cheap drugstore stuff. I was sick of the fact that I worried so much about the food I put into my body and the lotion I used, but was continuing to use makeup that had yucky ingredients in it. I found bareMinerals and have been so pleased. In fact, I kept saying to myself..."Now,
why
did I wait 25 years to buy good makeup?" The coverage is awesome and it seems to last a long while too. I got a starter kit and scored some great brushes which help tremendously with the application. I also use one eyeshadow and really like it. On the Skin Deep database, this makeup scores from 1-3. Pretty good, considering my old makeup scored an 8!
3. For the shower and for my face wash, I use
Burt's Bee's
products. Now, on the Skin Deep database, they score like a 4 or 5 which makes me feel a little guilty, but they're in my price range. You can get their products for very good prices on
Vitacost.com
. The ingredients are 95-99.9% natural, so I feel pretty good about that.
4. For deodorant, I use a simple homemade deodorant. I have two kinds - solid and spray. Personally, I feel that the solid deodorant does a better job at keeping the odor at bay, while the spray is simply faster and more convenient. That being said...I think both are great and I'll take them any day over the chemically, aluminum-laden deodorants.
Here are my recipes to get you started:
Homemade

D

eodorant

(solid)
1/4 cup cornstarch or arrowroot powder
4-5 tablespoons coconut oil
Stir together baking soda and cornstarch. Add softened coconut oil until mixture forms a paste. Add in essential oils and stir.
*You can store this in an old

deodorant

container or buy a new one. Honestly, my favorite way to store this is in a glass baby food jar because then I can still use it during the summer (the coconut oil melts at temperatures above 76 degrees). I just keep a tiny spoon in it and stir it each time (in the summer when it's liquified) before I use it, then I just apply it with my fingertips. This

deodorant

works SO well.
Homemade

D

eodorant

(spray)
Fill a glass spray bottle with about 1/3 water, 1/3 alcohol (grain alcohols like vodka are best), and 1/3 witch hazel. Add in 20-ish drops of essential oils. Scents I like are combinations of lavender, melaleuca (tea tree), and geranium or any citrus blend smells divine!
I am sure there are many other wonderful natural, organic beauty products out there, but I can't give any personal recommendations for them because these are all I've tried! What natural skin care tips do you have? Do you have a favorite natural skin care product?
**That's me above with my Burt's Bees natural lip color. I got it on clearance at Target and I'm loving having a little color on my lips (It scores a 5 in the database...umm. Baby steps, right?).