I am so happy to have a guest post today by a lovely long-time friend, Heather. We grew up together and though miles have separated us, we have reconnected and found that we are both passionate about similar things...one of those being natural childbirth! Heather is on the journey right now to becoming a doula and I am so happy she is here today to share her story. Enjoy!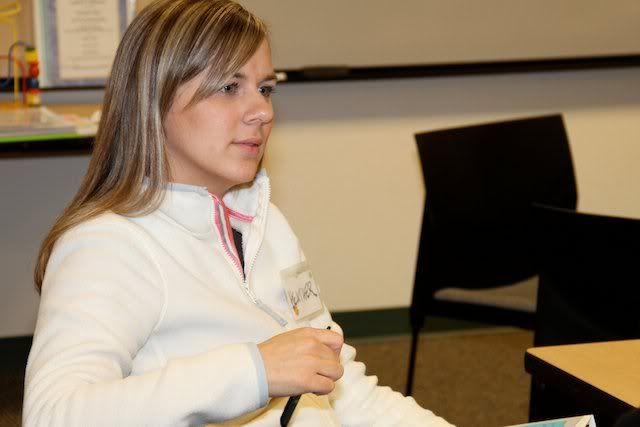 I have found my calling for this chapter in my life. Along with mother, wife, and friend I can now add Doula.
I have always felt a great desire, and passion to help people. From the time I was a little girl, that would be my answer when adults would ask me "what do you want to be when you grow up?" I was blessed to have the opportunity to see my nephew's birth when I was just 14 years old. As I watched the nurse that so lovingly attended to my sister's needs, a light bulb came on! I was going to be a labor and delivery nurse, and be there for the most memorable moments in a woman's life. I headed that direction all through high school, but life events kept getting in the way of a nursing career. I worked for about 6 years as a nurses assistant in several areas of the medical field, but for some reason it just wasn't working out to get my RN. I always felt something holding me back, telling me "no."
As frustration grew in my heart, I eventually gave up on that dream for a while and focused on the spiritual aspects of my life. Which led to me serving a mission. My mission VERY directly led me to my husband, and of course he led me to motherhood. While pregnant, my life quickly changed course. I had decided on a natural, out of hospital birth with a midwife at a free-standing birth center. It changed how I viewed my health, my body and my choices; and made me realize I had power in this process after all. Through our midwife, we were directed to a wonderful childbirth class called Confident Birthing. And at the end of this class, I finally was able to put a name to what I truly desired to be from the time I was 14. A doula. It was as clear to me as anything had been to me up to that point. I had finally received the right answer that I had been praying for.
But, really "what is a doula?" I have been asked this question frequently since making the decision to pursue this dream; and quite honestly had no idea how to answer the question in a short, effective way that people would understand. Like many of you, I had never even heard the term doula until recently. In fact I was 9 months pregnant with my first baby before I became familiar with the term. When my my husband and I took our childbirth class, the subject was brought up by our incredible instructor Kyndal May. She herself has been a doula since 1995, and stressed the powerful impact that the support of a doula can play to a laboring mother. At that time like many of you, I had thoughts like "I will have my husband, my mom, and my midwife there. I don't need anymore supprt." And, "I don't know how I feel about a stranger seeing me in my most vulnerable moments of life." ect.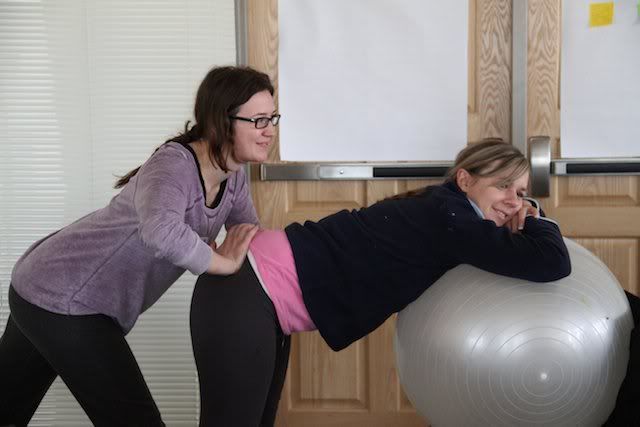 These are all valid, and normal concerns. But as the day fast approached that I would be giving birth I realized that I had no idea what I was to expect with my
own
labor and delivery. Would I be able to handle the pain? Would my husband remember all the comfort measures we learned in class? Would he be able to handle seeing me in pain, and be able to support the decisions we had made about our birth? The questions started overtaking my thoughts as my "due date" approached. After several episodes of labor starting, and stopping, we quickly realized together that we could use all of the help we could get!
Toward the end of our class we met Sheila. The amazing, kind, gentle woman that would quickly be chosen to be our doula, and attend our birth. She was working toward her DONA certification as a new doula, and was looking for couples to attend. We toyed with the idea for several days; even going past our "due date" before we hired her. When the decision was made, and she came into our home to do a pre-natal interview with us we knew immediately that we had made the right decision.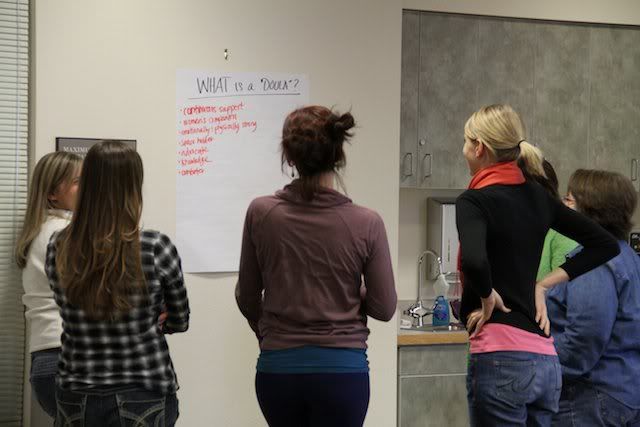 At first I, like many people that I have talked to had the same concern..."Will my doula take the place of my partner?" I can tell you that it is the complete opposite. A doula's role is to protect, and hold that space for each of you. A doula is there for the physical, and emotional support of both the laboring mother, and the partner. Doula's are trained in effective laboring positions to help the mother find relief from pain and discomfort. They are also taught how to truly listen and recognize the needs of both mom, and partner and evaluate what they can do so that those needs are met. From applying counter pressure, or a double hip squeeze to relieve back pain, to a gentle, reassuring affirmation that she can do it.
Each woman is different, and will therefore have a unique experience with her body in labor.Her choices for her birth will also be unique to each woman. Medicated, or un medicated, in hospital or out, ect. So a doula must be able to meet several different needs at one time. In my own labor, I spent the majority of it soaking in a big, warm, garden tub. My doula was there to encourage me through my most difficult contractions, and reminded me to breath in an effective way so that my baby could come down into my pelvis. She was there to hand cold wash cloths, and water to my husband to give to me when he may otherwise not realized that is what I needed. She explained to each of us what was happening to my body, and reminded me that the changes in the pain I was feeling were a good thing. She hardly touched me through my labor. (I didn't need a lot of touch from anyone, actually.) But what I did need was quiet affirmation. If you are told that you are doing it, and not only that but you are doing it well, can make all the difference in the world to a laboring mom. I know absolutely that it did for me.


But what is the point of having a doula when you are opting for a medicated birth? No matter the situation, birth can potentially be a scary thing to many women. "What exactly happens when I get an epidural?", "What is pitocin?", "Will breastfeeding be painful?", "Can my baby stay with me, or my partner at all times?" , "What are the risks of early induction?"
These are only some of the questions that a woman may indeed have, and not exactly know where to go for answers from some one she can trust. A doula has this information, and can have it readily available for the couple. That allows each woman to have the information that she needs to have to make their birth a positive, empowering, wonderful memory. How many of you look back on your births and have some sort of question that was perhaps never addressed, or left unanswered? Do you have negative, or unpleasant memories from any part of your experience? Did you come away from it feeling that there was something missing in anyway? A lot of women, and partners do. A doula can literally help you preserve the memory of your birth! A doula is there to be your advocate, and constant support. To ensure that you and your new little family are being taken care of. Typically a doula will be there from the onset of "active" labor, to 2-5 hours postpartum. (Depending on the needs of the family.) My doula took pictures for us, helped me breast feed as a new mom, offered to make me dinner at The Baby Place, and most importantly to me gave me reassurance and affirmation of what my husband and I had just accomplished. We never regretted having her there to support us, and will have her at our next birth for sure. She took nothing away from the experience. She added so much.
After the training I received at the
"BEcoming a Doula

"
workshop, I know now more than ever that this is what I am supposed to be doing. I love birth. I see it as something so sacred, and powerful. My hope is to be there to support a laboring mother in anyway that I can so that she can have the opportunity to see how beautiful this experience can really be. I look forward to learning from my mistakes as a doula, and gaining more and more knowledge as my journey continues. I am currently working on my
DONA
certification, and am seeking women to support in labor. I will be doing if for no cost for a while, and then plan on charging minimally while I am gaining experience. The mantra of doula's is "a doula for every woman who wants one." I hope I can reach those women who need and want labor support. Can I just say that it is an incredible feeling to be doing what you
know
you are supposed to be doing in life!
So in short, to answer the question of what does a doula really do??