Labels can be deceiving, we all know that. I usually check every label religiously, but when we were on our vacation a couple of weeks ago, I had to keep a promise I made to my little boy. In an effort to get him to stand in line by me (we were getting food on our old college campus), I said that I'd get him some juice (a very special treat and probably the only thing I
could
get him in the whole place). Well I had to get him juice, so I went to the "juice" area and looked around. I was rushing and picked some V8 Splash because it was supposed to be a blend of fruits and vegetables. I ALWAYS read the ingredient list (I have to because of food allergies and, I really want to know what I'm putting into our bodies) but for some reason, I didn't think to read it this time. I did, however, check the sugar content and decided on the V8 Splash rather than Orange Juice because it had less sugar. I sat down at our table and poured my son some juice (mixed with water of course) and randomly turned the bottle around. As I read the ingredients, my jaw dropped!!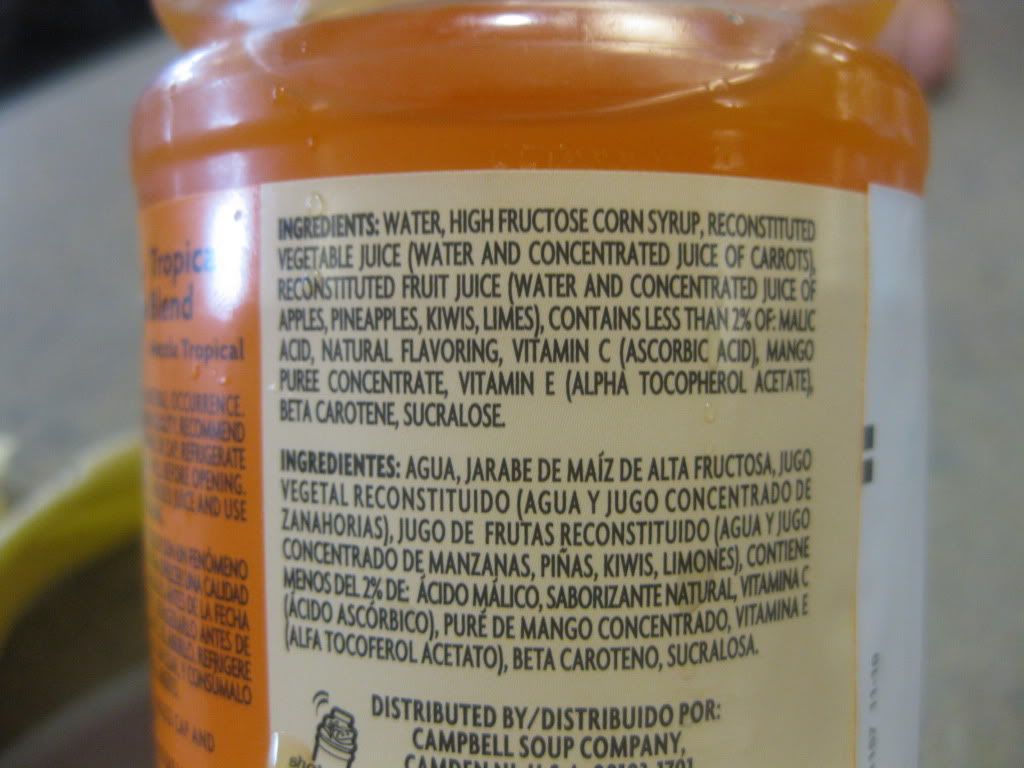 First of all, HIGH FRUCTOSE CORN SYRUP? You've got to be kidding me. I was appalled. Not only because we avoid it for our health, but because my son has a corn allergy and cannot have any corn products. I felt so bad. Luckily I didn't notice any reactions because he only had a sip before I told him he couldn't have anymore (poor kid!). Then, sucralose...artificial sweetener, really?? Ugh, I could not have been more disgusted and saddened that I had failed to check and recheck the label. What happened to something just being JUICE? So there was a big lesson for me that I thought I had already learned...READ EVERY LABEL!
*Another one: I've been a bit sick lately and have not been the best cook. My hubby has been picking up groceries from time to time and started buying cold cereal again (not my wishes but hey, if I'm not cooking there's not much I can say...starve please? Hah). The first cereal he bought was Raisin Bran...I admit it was pretty good but what really struck me was how sugary it was! 19 grams of sugar per serving (our rule is under 10 grams if we ever do buy cold cereal). And to think that I used to have to
put
additional sugar on that cereal when I ate it! Now here's the really frustrating one. He bought some Triple Berry Crunch from Fresh & Easy. On the front of the box, it has Fresh & Easy's promise: No Artificial Preservatives, Flavors, or Coloring. On the back in the ingredients? Caramel color. The same harmful Caramel Color found in soda. Yep. Artificial alright! Thanks for lying Fresh & Easy (you bet I'll be complaining about that deception). So yeah. Read labels.