Mmmmmm. Such a delicious treat that can hardly be deemed as a "treat." It is packed with nutrition, from the iron, complete protein, calcium, fiber, and antioxidants of the chia seeds to the good fat in the peanut butter to the antifungal properties, healthy fat, and lauric acid of the coconut oil. I used coconut sugar, which is low on the glycemic index so it doesn't spike your blood sugar and there is only a very small amount in the recipe. The chocolate gives it a rich flavor and is what makes this a treat. Go make these...they are delicious and you don't have to feel any guilt when eating them! I adapted this recipe to be gluten free (they have a delicious crunch...you'd never know you didn't use graham crackers!). Mine weren't vegan but they can easily be made vegan too.
(For those who would worry about the high fat content of this treat, forget those worries...GOOD fat is essential...you need it and you shouldn't feel guilty eating it! You should worry about the sugar, and in this recipe, there is no worry in that department!)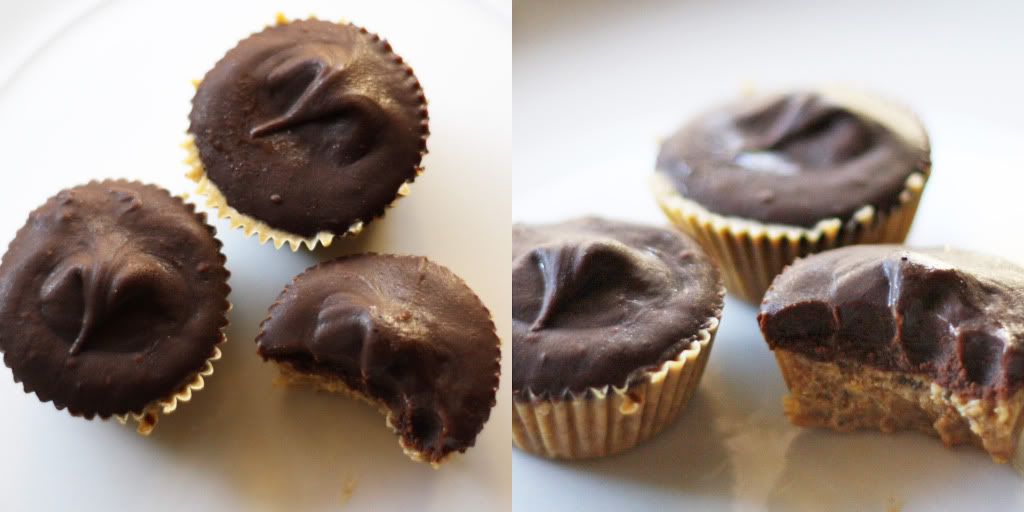 No Bake Chocolate Peanut Butter Cups
Over very low heat, combine the following ingredients until mixed:
1/2 cup coconut oil (this would be delicious with butter too)
3/4 cup natural peanut butter
3/4 cup ground flax seed
1/4 cup coconut sugar
1-2 tablespoons chia seeds
Meanwhile, over very low heat, combine until melted:
1 cup chocolate or carob chips (I used a mixture of high quality dark and milk chocolate squares)
Line mini muffin tins with paper liners. Fill each muffin tin about halfway to three-fourths of the way full with the peanut butter mixture (it will seem very runny). Next, scoop a bit of chocolate and top each liner with chocolate mixture. Place muffin tins in freezer until firm (this only took 15-20 minutes for me). Enjoy these "treats" straight from the freezer! Store either in the freezer or the refrigerator...they will become a puddle if you leave them out (especially in Arizona!). YUM! Go make them now! For the record, my kids were crazy about these!
*Tip: Place muffin tins with just the peanut butter mixture in the freezer for 5-10 minutes before scooping on the chocolate layer to avoid the chocolate sinking to the bottom of the mixture.
(This made me about 30-32 mini cups for me)
PS...my favorite candy used to be Reese's Peanut Butter cups...so glad I have a new, whole food replacement for those high fructose corn syrup, hydrogenated, scary ingredient laden delicious treats.